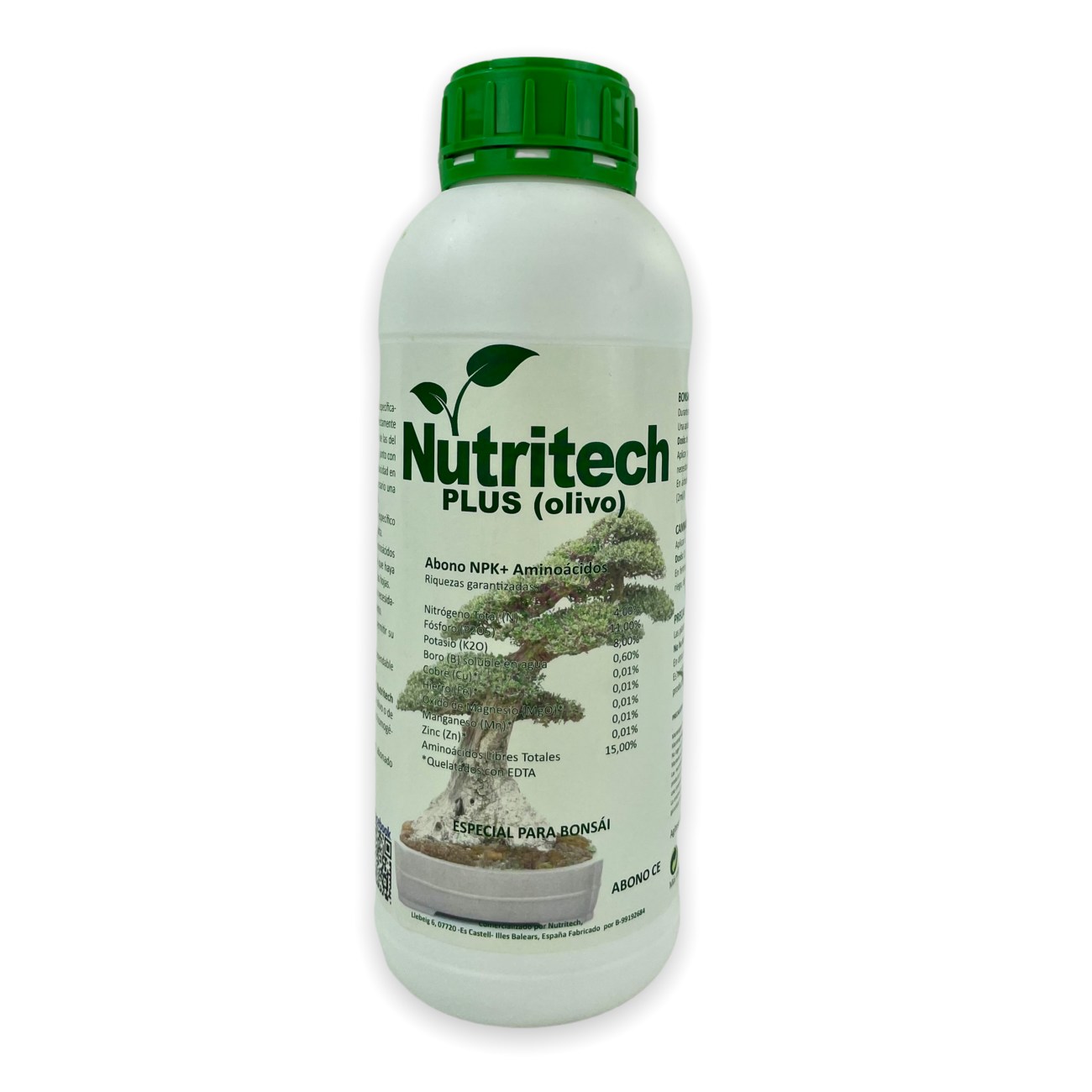  
Specific fertlizer for olives Nutritech Plus 1 l
Great for olives-wild olives-ullastres
NPK+ AMINO ACIDS FERTILISER FOR BONSAI
Guaranteed richness:
Total Nitrogen (N) 4,00%.
Phosphorous (P2O5) 11,00%.
Potassium (K2O) 8,00% Potassium (K2O) 8,00% Boron (B) water soluble
Boron (B) soluble in water 0.60%.
Copper (Cu)* 0.01
Iron (Fe)* 0,01% Iron (Fe)* 0,01% Magnesium oxide (Mg)
Magnesium oxide (MgO)* 0.01% Magnesium oxide (MgO)* 0.01% Magnesium (MgO)* 0.01
Manganese (Mn)* 0.01% Zinc (Zn)* 0.01% Zinc (Zn)* 0.01
Zinc (Zn)* 0,01% Zinc (Zn)* 0,01% Total Free Amino Acids
Total Free Amino Acids 15,00%.
*Chelated with EDTA
Properties:
NUTRITECH PLUS fertiliser is a product specifically formulated for olive bonsai. Although it is perfectly compatible with most species. With the exception of the Prunus genus, as its copper and boron content, together with the presence of amino acids, could cause phytotoxicity in some varieties. If it is still desired to use it, a previous test is necessary, and it is recommended to reduce the dose to 0.2%.
This product has been designed with a specific NPK balance for cultivation on Akadama or Lutita based substrates.
The fertiliser is enriched with microelements and L-amino acids (15%), which allows for high growth rates without any danger of leaf thinning or leaf enlargement.
The EDTA chelated microelements will cover the needs of olive bonsai in all growth phases.
This product is not enriched with calcium to allow its use with calcareous water.
If osmosis or rain water is used, three treatments per year with Nutritech Calcium are recommended.
In autumn, it is advisable to alternate Nutritech Plus with Nutritech Potassium Phosphite, in this way we help the olive or "Ullastre" bonsai to accumulate reserves for a more homogeneous sprouting in spring. In warm climates, it is advisable to continue fertilising until growth stops completely.
APPLICATION:
Throughout the growing season.
One application every week.
Dosage: 0.3 to 0.4% (3 to 4 ml per litre of water).
Apply preferably in irrigation or as a foliar fertiliser if extra growth stimulus is needed.
On deciduous trees, it is advisable to reduce the dosage to 0.2% (2ml/l).
CAUTION:
Plants should be well watered before fertilisation.
Not to be used on Prunus species.
In other species it is advisable to carry out a previous test.
It is miscible with the majority of phytosanitary products and with all NUTRITECH products.
Features
Origin

Spain

Type of fertilizer

Liquid

Volume (l)

1

Bonsai recommended dosage

3 ml / litre
Features
Origin

Spain

Type of fertilizer

Liquid

Volume (l)

1

Bonsai recommended dosage

3 ml / litre