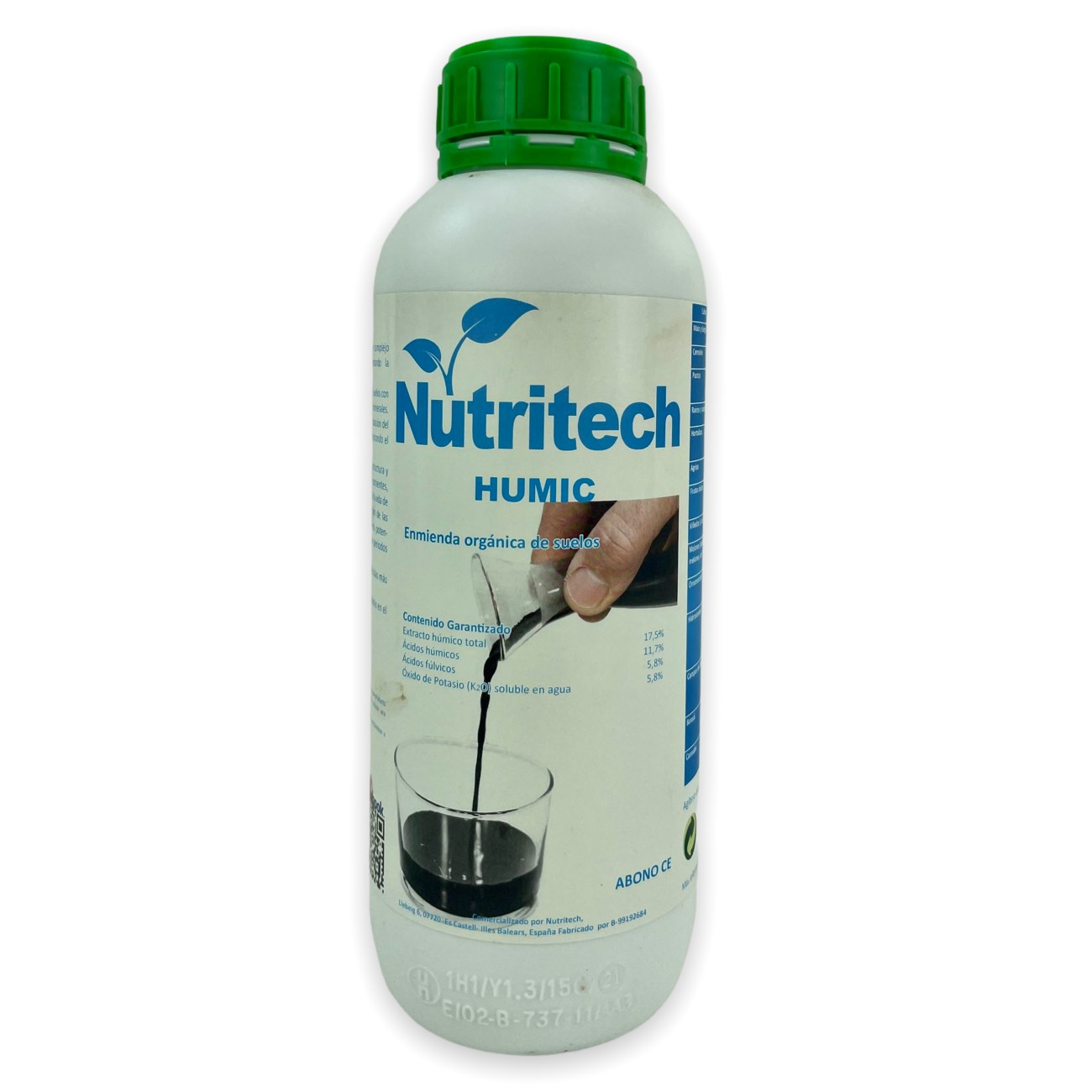  
Organic substrate amendment Nutritech Humic 1 l
Regenerates the soil of your trees
HUMIC AND FULVIC ACIDS
Properties:
Nutritech HUMIC improves soil structure. It flocculates the clay-humic complex, making it more spongy and increasing aeration and drainage.
Acts as an unblocking agent in soils with high pH. It increases the availability of macro and micro minerals. It favours the action of mineral fertilisers. It prevents the retrogradation of phosphorus and potash to form humates and humophosphates, improving the nutritional state of the plant.
Fulvic and humic acids produce an improvement in the structure and oxygenation of the soil, causing the release of nutrients, improving its ion exchange capacity and stimulating the life of microorganisms.
It produces a greater absorption power of the roots, stimulates the development of the growth meristems, boosts cellular respiration and gives the plant greater resistance in critical periods.
greater resistance to the plant in critical periods.
Its use provides the organic part necessary for a good balance in the soil, in the same way as organic fertilisers do.
ORGANIC SOIL CORRECTOR
Guaranteed richness:
Total humic extract 15,0%
in the form of fulvic acids 7,5%
Potassium oxide (K2O) 3,0% Magnesium oxide (M3O) 3,0% Magnesium oxide (M3O)
iron (Fe) 0.4%.
APPLICATION
On all species, from the second year in pots, to regenerate the soil. One or two applications per year
Dosage: 0.3% (3cc per litre of water). Apply in irrigation
CAUTION:
Avoid contact with eyes, skin, etc. In case of contact, wash immediately with plenty of water.
Features
Origin

Spain

Type of fertilizer

Liquid
Substrate regenerator

Volume (l)

1
Features
Origin

Spain

Type of fertilizer

Liquid
Substrate regenerator

Volume (l)

1